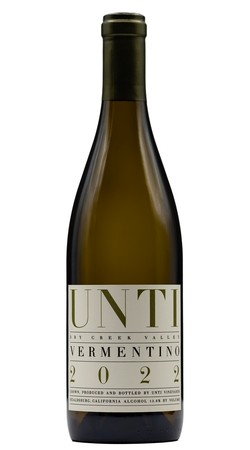 Pre-bottling offer. Available for shipment and pick up after April 20.
100% Vermentino
Can I say it? I am a Vermentino groupie. No white wine has captured my fancy more than Vermentino since our travels to Cinque Terre in 2019-which is why I am very excited about our 2022 vintage.
Vermentino is one of THE most expressive grapes on the planet. Fragrant, floral, and exotically fruity aromas lead to bright, crisp and in our case, a high acid white wine that needs no oak. Our nighttime cool temperatures here in Dry Creek Valley give us brighter acidity than most if not all Italian Vermentino. If it results in a wine that is on the Loire valley side of Vermentino, I'm okay with that.
Our 2022 has all the above qualities with added depth, due to our 20-year-old vines and our crop-thinning regimen. The wine was fermented in stainless and aged in concrete with no malolactic fermentation.
It all adds up to a wine that you love more than our ability to supply. So this is your chance to secure your summer wine needs.
465 cases produced
Accolades:
Wine Specs
Appellation
Dry Creek Valley