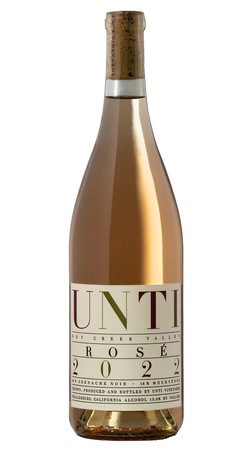 Believe it or not, it has been 20 years since we made our first Rosé. Back then, domestic rosé was just how your grandmother liked it—SWEET, and I don't mean SAWEET. I mean sweet as sugar, and I don't mean sweet like Stanley Turrentine's classic tune.

Dry Rosé was available in the U.S. back then, but it was mainly from Southern France, and it was a long way from being a staple at bachelorette parties. A Jed Clampett-like voice told us that Bandol is the place you OTTa be, and so we set out to emulate our favorite style of Rosé in 2002.

Several factors contributed to us quickly earning a reputation for making one of California's best Rosé wines. We used our estate-grown Grenache and Mourvèdre, the grape varieties used for the best Rosé in France. My dad George and I have been Bandol Rosé fans for years—obsessed with Domaine Tempier.

Since 2015, our winemaker Jason Valenti has taken our Rosé to a new level by selecting our most appropriate vineyard blocks and applying more precision to our winemaking. The result is a streak of our most successful Rosés since 2018. From the day it completed fermenting, our 2022 Rosé has been on point, showing all the attributes that make Grenache and Mourvèdre THE best grape varieties on the planet for Rosé.

In Jason's words: Since 2015, I have realized our micro-climate, combined with maintaining moderate yields in Grenache and Mourvèdre, allows us to strive for a more uniform ripeness without sacrificing acidity. It also provides more even color development in Grenache, making it easier for us to achieve that classic Provençal copper, salmon color. The 2022 is definitely the best Rosé i've ever made. A real tribute to the work our excellent crew does in the vineyard.

We bottled mid-April and will be shipping immediately to make sure you get your wine safe and sound before summer. Give this wine a couple months to settle down post bottling. It will reward you, early and often.
HARVESTED:
AUG 27- SEPT. 15, 2022
BRIX AVG:
22.4-22.6
BLEND:
82% GRENACHE NOIR
18% MOURVEDRE
ACIDITY:6.4 g/L
pH:3.31
ALCOHOL:13.8%
AGING:
2-3 HOUR SKIN CONTACT
STAINLESS STEEL &
CONCRETE TANKS
BOTTLED:
4/19/22
CASES PRODUCED:
1030
Wine Specs
Appellation
Dry Creek Valley