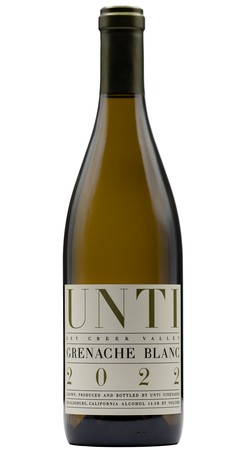 Pre-bottling offer. Available for shipment and pick up after April 20.
100% Grenache Blanc
While Grenache Blanc is as close as we come to making an "un-oaked" Chardonnay, it has soooooo much more personality. The 2022 is one of Jason's favorites, so let's hear his take on the wine:
Many Grenache Blanc based whites we have tasted from Chateauneuf du Pape can come across as riper and less defined than ours, though we share the same characteristic pithy phenolic structure. We have the same deeper golden color that no doubt comes from the thicker skins and phenolics (almost comes across as barrel fermented chardonnay by appearance though we use only stainless steel and concrete tank for fermentation and aging) but the aromatics and flavors are more vibrant white flower and green apple-which is distinctively Unti. In 2022, late August and early September heat enabled us to achieve full aromatic, flavor and phenolic ripeness Grenache Blanc is capable of achieving here without sacrificing its hallmark acidity.
GB is our most full-bodied white, worthy of aging for a couple of years.It is our version of a deeper colored white wine that doesn't taste like kombucha!
200 cases produced
Wine Specs
Appellation
Dry Creek Valley