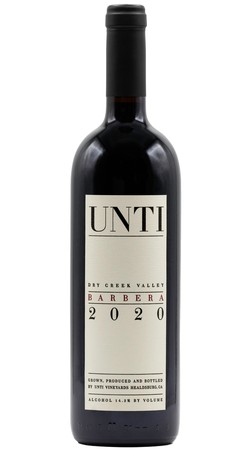 VARIETAL/VINEYARD: Our 2020 comes from our original 1.9-acre block, planted in 1998. We have 4 more acres of Barbera that we planted in 2018 and 2019, which we first harvested in 2021. Our original Barbera vineyard is CVT 171 from Piemonte, planted on a low-vigor rootstock called 420-A. Barbera generally ripens in late September here in Dry Creek. We routinely reduce the crop by 35 to 50% to facilitate more even ripening and concentration.We farm all our vineyards organically.
VINTAGE/HARVEST: Like everything else that year, 2020 was a crazy growing season. A fairly normal-to-warm growing season was interrupted by a mid August lightning storm. This resulted in many wildfires, including the Walbridge Fire, about 3 miles from Dry Creek Valley.We also experienced an extreme mid September heat wave, which combined with smoky skies had us thinking this was the end of the world. Remarkably, our 2020 Barbera came through with flying colors—and never tested for smoke taint, pre or post fermentation. In fact, the heat wave may have pushed our Barbera to the kind of ripe flavors we so enjoyed in 2007 and 2015. We harvested our Barbera on September 15th. 2020 is another example of why we feel Barbera is an excellent grape to grow in the inland valleys of Sonoma County.
WINEMAKING: Our approach to making Barbera is straightforward. The grapes were de-stemmed and pumped through a peristaltic pump into both open and closed stainless steel and concrete tanks. After a five-day cold soak, the fermentation started naturally with indigenous yeasts. The wine was pressed at dryness. We age our Barbera for 13 months in French Burgundy barrels, about 30% new. Using small, new barrels for aging Barbera provides texture which balances out the natural acidity.
STYLE/DESCRIPTION: This 2020 Barbera is a classic UNTI, meaning it has dark color, exotic fruit, and great texture. This style is like the full-bodied Barberas from Italy's DOCGs in Asti and Nizza—deep color, bright fruit, and solid acidity. While this 2020 is one of our most concentrated Barberas we've ever made, I would still drink it now through 2025. - MU