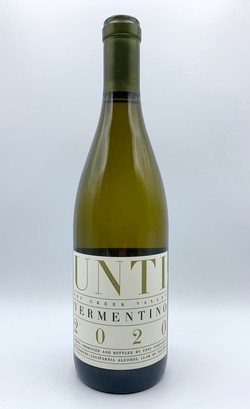 VINEYARD: In 2004 we planted Vermentino as part of a small experimental block of white grapes. Vermentino is native to Mediterranean areas of Europe, where it is the main white grape of Italy's Liguria and Sardinia. We now have 3.55 acres of Vermentino two more acres that are just beginning to produce fruit. I think our climate in Northern California might be better for Vermentino than the Mediterranean because our cool evenings help preserve acidity and freshness. If 2020 is any indication, Vermentino is ready for Global Warming.
HARVEST & VINIFICATION: 2020 was a strange and difficult year to say the least. The pandemic challenged our vineyard crew, and nature didn't give us any breaks either. The growing season featured several heat spells including extreme heat during harvest, while a wildfire burned 3 miles away from us. We harvested Vermentino on September 7th and 8th, at sugars between 21.5 and 22.5 Brix sugar level. The grapes are de-stemmed, pressed, and sent to a tank where the juice is allowed to settle for 24 hours prior to fermentation. Our Vermentino was fermented in stainless steel tanks at temperatures below 70 degrees to retain bright aromas. We then age the wine in concrete tanks to offer some of the oxidative benefits of oak, without imparting wood flavor. We prevented this wine from going through malo-lactic fermentation thereby preserving the bright natural acidity in this steely white.
STYLE & DESCRIPTION: 2020 is proof that Vermentino is at home here in Dry Creek Valley. While Sauvignon Blanc and Chardonnay would have withered in the harvest heat, Vermentino pulled through famously-as if to say "Is that all you got Mother Nature?" The 2020 has incredible floral aromas followed by a wine more fruit and texture than any previous vintage. All while retaining the minerality and acidity you have come to expect from Unti. Hard to believe Vermentino is not planted more extensively in Sonoma county and all of California for that matter.
-MJU
100% Vermentino
295 cases produced
Wine Specs
Appellation
Dry Creek Valley