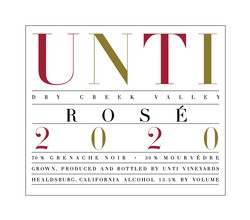 2020 started out with an extraordinarily dry winter; hardly any rain in January and none in February, which set us up for a slightly earlier budbreak (about 7-10 days ahead of the normal). Early spring was seasonally temperate and warm, with even some 90*+ days in early May to keep us on track for an early vintage. However, in mid-May, at the early stages of bloom, we received an unseasonal cool down with some cool rains, which ended up being a blessing for us because not only were these rains refreshing from a vineyard (and human) standpoint, the rains reduced the fruit set to varying degrees throughout the estate, leading to a natural occurrence of fruit-thinning that we would otherwise do ourselves. The spring gave way to a warm and often hot early summer, which when combined with the low yields, put us right back on track for an early harvest.
Now normally we wouldn't wish for an early harvest... often we are looking for long, even-keeled growing seasons that give the vines ample time to develop their fruit; however, the naturally lower yields combined with warmer weather through July enabled the fruit to achieve good enough development so that when the challenges of the August and September heat and fires hit us, we didn't have to wait too long before the fruit would be ready for harvest. Of course we would have to navigate our way on this final stretch of the journey though dry lightning and thunder, oppressive heat-waves, and smoke that seemed to be coming at us from all directions from fires both near and far. With strategic watering and proper canopy and fruit management by our vineyard team, we were able to get ourselves to the finish and, remarkably ended up right where we thought we would be at the beginning of the season: harvesting our Grenache Rosé blocks about 7 days ahead of the previous vintage. Not too bad considering all we had been through!
Given the unchartered territory we were in with this vintage, we played it very conservative in the winery for all the varietals, such as shorter soak times and lower-pressure pressings for the Rosé fruit to avoid over-extracting the skins, and shorter overall maceration times for the reds. One other big decision we made for the Rosé was to dedicate all of our Mourvèdre to the Rosé and not hold back any for our Grenache and Cuvée Foudre programs, meaning our oldest and best block of Mourvèdre went into this year's Rosé. It became immediately apparent in the fermentation tanks and in our subsequent tastings that this was the right decision. It sounds crazy to say this given the challenges of the vintage, but the 2020 Rosé will perhaps go down as one of our best. The bright berry fruit and florals of the Grenache blends perfectly with the more savory and rhubarb-driven Mourvèdre, all layered upon an opulent texture that has incredible focus and length. This wine speaks clearly to some of our favorite Rosé's from Bandol and speaks to the indomitable spirit of the entire Unti team who saw it through. - Jason Valenti, winemaker.
Wine Specs
Appellation
Dry Creek Valley