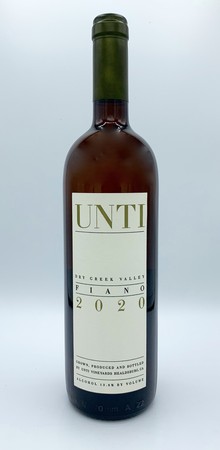 6-bottle limit
VARIETAL / VINEYARD: Fiano is the noblest grape from the town of Avelino in Italy's Campania region. We planted 1.1 acres of Fiano in 2012 thinking it would respond well to our Mediterranean climate here in Dry Creek Valley. We were right. This 2020 Fiano has the classic honey, beeswax, almond, and pear quality the grape is known for. It was fermented and aged in concrete to retain is varietal character without oak. Dry and crisp, this wine is very European. We recently planted another acre of Fiano which will begin producing in 2021.
VINTAGE: 2020 really tested our theory for planting Fiano in Dry Creek Valley. To our great pleasure, our Fiano handled the heat spikes and brutally warm harvest weather in stride - probably because it is native to Campania in southern Italy. We harvested our Fiano vineyard on September 9th, amidst a severe heat wave AND under a layer of smoke from the Walbridge fire. The heat likely resulted in perhaps the most intensely fruity Fiano we have yet made. However, the grape retained excellent acidity. If you are looking for a white grape to handle global warming, Fiano is ready.
WINEMAKING: We harvested Fiano at 22.5 Brix level sugar. The grapes are de-stemmed, pressed, and sent to a tank where the juice is allowed to settle for 24 hours prior to fermentation. We ferment Fiano in concrete tanks at temperatures below 70 degrees to retain bright aromas. The wine is then aged in concrete tanks, which offer some of the oxidative benefits of oak without imparting wood flavor. We prevented this wine from going through malo-lactic fermentation thereby preserving the bright natural acidity in this steely white.
STYLE / DESCRIPTION: The 2020 Fiano is undoubtedly our most fruit forward vintage to date. It has intense aromas of pear and honey. On the palate, it has classic Fiano texture, body, and excellent acidity. Fiano represents one of the world's most unique white wines - a dry and mineral-driven white that derives its texture from the grape, not the barrel. While this wine will certainly age a couple years, it is drinking fantastic now.
-MJU
100% Fiano
125 cases produced.