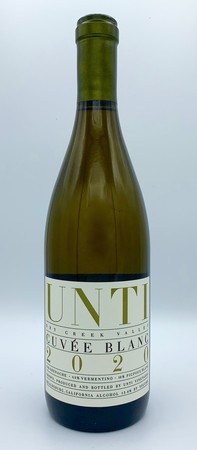 VINEYARD: In 2004, we planted an experimental block of Grenache Blanc, Picpoul, and Vermentino. All three of these varieties are native to the Mediterranean areas of Europe, and as such, tend to retain natural acidity and mineral character in warmer climates. Vermentino is the white of both Sardinia and Liguria in Italy. Grenache Blanc is one of the key components to Châteauneuf-du-Pape Blanc and the white wine from Spain's Priorat and Terra Alta. Picpoul is often called 'Muscadet of the Languedoc' because of its high acidity. We now have almost three acres planted to these three varieties.
HARVEST & VINIFICATION: The 2020 vintage tested our vineyards and our winemaking skills in many ways. The growing season included a few heat spikes, especially during the harvest- conditions that were undoubtedly too hot for Sauvignon Blanc in Dry Creek. Grenache Blanc, Vermentino, and Picpoul are native to Southern Europe, where severe heat is the norm. As such, all of our whites took the heat in stride, producing very expressive aromas and flavors while retaining bright acidity. These whites just might be the choice for winemakers looking to plan for global warming.
 We usually harvest our whites between 21.5 and 22.5 brix level sugar. The grapes are de-stemmed, pressed, and sent to tank where the juice is allowed to settle for 24 hours prior to fermentation. We ferment our whites using indigenous yeast in concrete or stainless steel tanks at temperatures below 70 degrees to retain bright aromas. Concrete tanks offer some of the oxidative benefits of oak without imparting wood flavor. We prevented this wine from going through malolactic fermentation thereby preserving the bright natural acidity in this steely white.
STYLE & DESCRIPTION: Our 2020 CB is the blend we set out to make when we first planted all three of these whites. Vermentino provides fruit and aromas, Grenache Blanc mineral flavors and texture, and Picpoul adds a softer citrus component. It is our most complex white. It signals a new style of California white wine, rendering sweet, barrel-fermented Chardonnays passé. Bring on the oysters from Tomales Bay!
—MJU
42% Grenache Blanc, 42% Vermentino, 16% Picpoul
221 cases produced