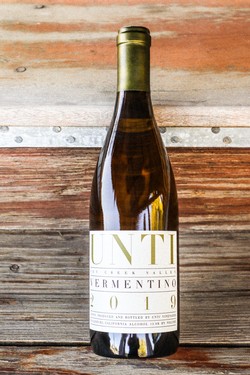 VINEYARD: In 2004 we planted Vermentino as part of a small experimental block of white grapes. Vermentino is native to
Mediterranean areas of Europe, where it is the main white grape ofItaly's Liguria and Sardinia. We now have 1.66 acres of Vermentino
with plans to plant two more acres in the next two years. I think our climate in Northern California might be better for Vermentino than
the Mediterranean because our cool evenings help preserve acidity
and freshness.
HARVEST & VINIFICATION: 2019 was a fairly normal growing season with some heat waves. We harvested Vermentino September 14th-18th between 21.5 and 22 brix sugar level. The grapes are de-stemmed, pressed, and sent to tank where the juice is allowed to settle for 24 hours prior to fermentation. Our Vermentino was fermented in stainless steel tanks at temperatures below 70 degrees to retain bright aromas. We then age the wine in concrete tanks to offer some of the oxidative benefits of oak, without imparting wood flavor. We prevented this wine from going through malo-lactic fermentation thereby preserving the bright natural acidity in this steely white.
STYLE & DESCRIPTION: 2019 was another excellent vintage for all of our white grapes, and it really shows in this Vermentino. The 2019 is a bit more fruity and textured than last year, yet has a minerality and acidity you have come to expect from Unti. The notion of a Dry Creek Valley white wine that is suitable with raw oysters still blows my mind. It signals a new style of California white
wine, rendering sweet, barrel-fermented Chardonnays passé. Vermentino should take over this state. - MJU
HARVESTED:
September 18h,19th
BRIX AVG:
21.5-22
BLEND: 100% VERMENTINO
AGING: Stainless steel and concrete tanks
BOTTLED: 4/8/20
CASES PRODUCED: 709
TA: 5.4 g/L
pH: 3.38
Wine Specs
Appellation
Dry Creek Valley