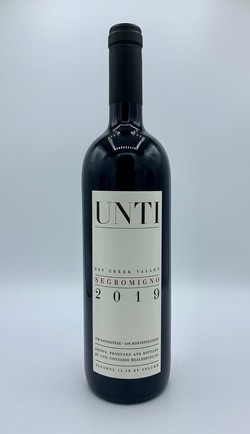 *Only available from the winery
VARIETAL & VINEYARD: Our 2019 Segromigno is a blend of 70% Sangiovese and 30% Montepulciano. The Sangiovese comes from our original planting in 1992 and a vineyard block established in 2007. These blocks are planted to the Sangiovese Grosso clone, used for Tuscany's famed Brunello di Montalcino wines. We now have 2.5 acres of Montepulciano planted—more than anyone in Sonoma County, put under vine from 2005 through 2007.
VINTAGE/HARVEST: The 2019 vintage started with a very wet winter and cool spring that delayed bud-break by a couple weeks; We even had some unseasonal cool rains in early May, which, fortunately, didn't affect flowering or fruit set. The summer brought warm but not overly hot days and cool nights which led us into a nice start to harvest beginning in mid-September. Sangiovese is the first red varietal we harvest, and was brought in under ideal conditions in mid-September (about a week later than the normal start), and the Montepulciano was harvested in the middle of October. The later part of September brought more variable temperatures which fluctuated between hot and cool. Thankfully, our Montepulciano has proven itself impervious to such changes.
STYLE/DESCRIPTION: Well-made Chianti Classico is my one of my all-time favs. It has excellent fruit, spice, tannin structure, and depth, while also being incredibly easy to drink - checking all of my wine-geek boxes. All of these characteristics are readily apparent in our 2019 Segromigno. The 2019 Segromigno is incredibly aromatic and fruity, with the structure and depth of a more serious wine. It is quintessential Chianti in style, even if MP is never used there.
Wine Specs
Appellation
Dry Creek Valley