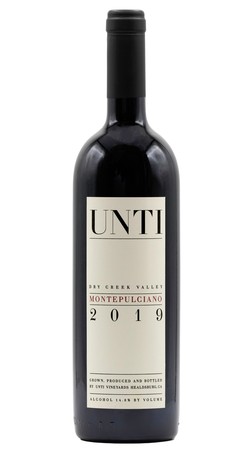 VARIETAL & VINEYARD: This 100% Montepulciano comes from our original, and best vineyard block planted in 2005. The vines are planted to dense spacing (4' x 6') near our Grenache on the winery parcel. We reduce crop during the growing season to facilitate concentrated flavors, tannins, and acidity. Montepulciano is the last variety we harvest, as Dry Creek Valley is at the cooler edge of where this grape can still ripen. We farm all our grapes organically.
VINTAGE/HARVEST: 2019 was an excellent growing season, especially for our varieties that hail from the warmer European regions (South Central Italy). The warm and even growing season resulted in excellent flavor development for our Montepulciano. Unfortunately, we had leaf canopy issues in our largest block, causing less than ideally ripe fruit. As such, we omitted this lot from our blend. We have since addressed this issue through composting, with great results, and are back on track in 2021. We harvested our Montepulciano on October 15th. The longer growing season allowed us to get ripe fruit AND retain nice acidity. It is one of the many reasons we like this grape for Dry Creek Valley.
WINEMAKING: Our winemaking with Montepulciano is pretty straightforward. The fruit is de-stemmed and sent to small (3-4 ton) open top tanks. After a 5- day cold soak, fermentation begins spontaneously with indigenous yeast. We punch down or pump over each tank daily. We then drain and press when the wine is fermented to dryness. Since our Montepulciano tends to have solid tannin structure, we aged this wine in French Oak barrels, 30% new for 17 months.
STYLE/DESCRIPTION: As mentioned earlier, 2019 was an excellent vintage for our Southern European varieties. The 2019 Montepulciano exceeds even our high standards for this variety—showing expressive aromas of blackberry, blueberry, cassis, and semi-sweet chocolate. The aromas alone will have you swirling and sniffing this wine longer than you might expect. The fruit is backed up by excellent richness, tannin structure, and the right dose of acidity. Amazing we get this type of complexity from Montepulciano here in Dry Creek Valley. - MU