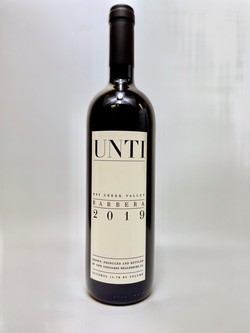 VARIETAL & VINEYARD: We now have 6 acres of organically farmed Barbera planted in two blocks, located on our winery ranch. Our 2019 comes from our original 1.9-acre block, planted in 1998, a 2-acre vineyard planted in 1998, and another 2 acres planted in 2007. Both Barbera vineyards are clone CVT 171 from Piemonte, planted on a low- vigor rootstock called 420-A. Barbera generally ripens in late September here in Dry Creek. We routinely reduce the crop by 35 to 50% to facilitate more even ripening and concentration. Barbera retains remarkably high levels of acidity at maximum sugar ripeness.
VINTAGE/HARVEST: 2019 was a fairly normal growing season. The late- August and early-September night time temperatures were a little higher than normal, resulting is riper fruit than in 2018. The yields were low due to our crop-thinning regimen, which facilitates concentration. We harvested our Barbera September 23rd with high acidity. 2019 is another example of why we feel Barbera is an excellent grape to grow in the inland valleys of Sonoma County.
WINEMAKING: Our approach to making Barbera is straightforward. The grapes were de-stemmed and pumped through a peristaltic pump into both open and closed stainless steel and concrete tanks. After a five-day cold soak, the fermentation started naturally with indigenous yeasts. The wine was pressed at dryness. We age our Barbera for 10 - 11 months in French Burgundy barrels, about 25% new. Using small, new barrels for aging Barbera provides texture to balance out the natural acidity.
STYLE/DESCRIPTION: This 2019 Barbera is a bit more classic Unti, meaning it has exotic fruit and a bit more concentration than its predecessor, the 2018. This style is quite similar to the full-bodied Barberas from Italy's DOCGs in Asti, Monferrato, and Nizza—deep color, bright fruit and solid acidity. While this 2019 is one of our more concentrated Barberas, I would still drink now through 2024.
Wine Specs
Appellation
Dry Creek Valley