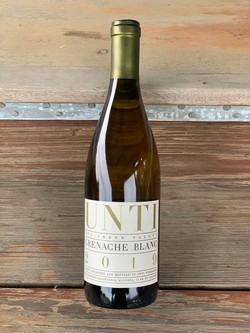 VARIETAL / VINEYARD: In 2004 we planted an experimental block of Grenache Blanc, Picpoul, and Vermentino. All three of these varieties are native to the Mediterranean areas of Europe, and as such, tend to retain natural acidity and mineral character in warmer climates. Grenache Blanc is one of the key components to Châteauneuf-du-Pape Blanc and the white wine from Spain's Priorat and TerraAlta. We now have almost two acres of Grenache Blanc planted. Since Grenache Blanc is a genetic mutation of Grenache Noir, it tends to show more texture and body than most white wines.
VINTAGE: The 2019 vintage is shaping up to be a great one for all of our whites. Late August/early September weather featured a little warmer, more humid nights. This really allowed the Grenache Blanc to develop.
WINEMAKING: We harvested Grenache Blanc on September 21st. We usually harvest our whites between 21.5 and 22.5 Brix level sugar. The grapes are de-stemmed, pressed, and sent to a tank where the juice is allowed to settle for 24 hours prior to fermentation. We ferment Grenache Blanc in stainless steel tanks at temperatures below 70 degrees to retain bright aromas. The wine is then aged in concrete tanks, which offer some of the oxidative benefits of oak without imparting wood flavor. We prevented this wine from going through malo-lactic fermentation thereby preserving the bright natural acidity in this steely white.
STYLE / DESCRIPTION: 2019 is my favorite Grenache Blanc to date. It has more intense fruit aromas and flavors than previous years while retaining the texture and bright acidity we've come to expect from our Grenache Blanc. The notion of a Dry Creek Valley white wine that is suitable with raw oysters still blows my mind. It begs the question: Who needs Chardonnay grown in Dry Creek Valley when you can have Grenache Blanc?
-MU
HARVESTED: SEPTEMBER 1st
AGING: STAINLESS STEEL AND CONCRETE TANKS.
BOTTLED: 4/9/2020
CASES PRODUCED: 364
BRIX AVG: 22.9
BLEND: 100% GRENACHE BLANC
pH: 3.25
ALCOHOL: 13.9%