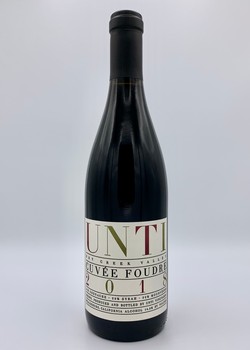 VINEYARD: Cuvée Foudre comes from three of our finest vineyard blocks: Alban clone Grenache, Tablas Creek clone Mourvedre, and Syrah clone 383, all planted in 1998. These have proven to be our most Rhône-like vineyard blocks. We aggressively reduce the crop during the growing season to facilitate the concentration of aromas, flavors, and structure.
VINTAGE: Cool August and September weather provided extra hang-time during the fruit-ripening cycle in 2018, resulting in deep fruit concentration and excellent tannin structure. We harvested Grenache and Syrah the last week of September, while our Mourvedre was picked October 8th. 2018 will definitely go down as one of THE great vintages so far in the 21st century.
WINEMAKING: Over the years we have learned that to make a full-bodied and complex Grenache-based red, you need to maintain low yields and harvest Grenache at the late stages of ripeness. In 2018, the Alban Grenache block was so good that we made it over half of the blend. As always we used our original block of Mourvedre, but the yield was quite low. As usual, our 383 Syrah included some whole clusters, a traditional technique used to enhance spicy aromas. All of these lots were fermented in either small open-top tanks or concrete. We age this wine in a 620-gallon large oak cask the French call "foudre". We prefer large casks for our Grenache blends because they preserve fruit without imparting oak character.
STYLE/DESCRIPTION: Cuvée Foudre is our attempt at making a Rhône-blend worthy of the best Châteaunef-du-Papes. Not surprisingly, it has been our most critically-acclaimed wine. The Grenache Alban clone is always our most expressive, while the Mourvedre and Syrah play key roles in giving this wine complexity (raspberry/cherry, pepper, licorice, tar) and tannin structure. Like all of our 2018 wines, this Cuvée Foudre has a brighter fruit component to go along with the depth and richness you've come to expect from one of our best wines. And yes, this wine will age well over the next 6 to 10 years.— MJU
Wine Specs
Appellation
Dry Creek Valley