2017 Rosé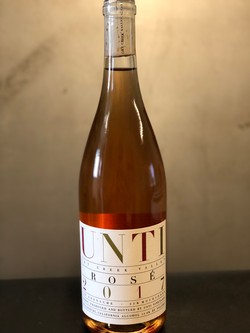 Discounts to $10/bottle when 6 or more bottles of this wine are added to your cart!
Vineyard: Our 2017 Rosé comes from Grenache Noir and Mourvedre planted in 1998. The Grenache Noir plant material was sourced from Tablas Creek and Alban Vineyards, who brought cuttings over from Chateauneuf-du-Pape. We routinely reduce crop to facilitate higher qualitly in fruit. In 2017 we were more aggresive about dropping fruit from our Mourvdre. Almost any sane-thinking winemaker would use this fruit for red wine. But.....
Vintage: 2017 was relatively normal. The summer featured several hot days with low overnight tempteratures. As in 2016, moderately cool August weather helped the vines maintain solid acidity. We make our Rosé from certan sections of our Grenache and Mourvedre vineayrd blocks. The Aggresive crop thinning we employed with our Mourvedre really shows in the color and body of this wine. We harvested these vines September 2nd through 5th, 18th, 21st, and the 26th through the 29th. We harvest these blocks specifically for our Rosé, usually between 21.5 and 23.5 brix. Harvesting at these sugars result in an expressive rosé that retains bright acidity and moderate alcohol.
Winemaking: We make Rosé by lightly crushing Grenache and Mourvedre grapes directly to press. In order to make a Provencal-style rosé that is not dark-hued or tannic, we limit skin contact to a few hours. The wine is fermented completely dry, and aged in stainless steel or concrete tanks until bottling. If possible, we prevent the wine from going through malo-lactic fermentation in order to retain bright acidity. In 2017, our Rosé has 35% Mourvedre, which adds to the depth of the wine.
Style: Grenache and Mouvedre have the unique ability to provide body, texture, and complexity while maintaining the style of a crisp, dry rosé, which is why we love Bandol, in southern France. When someone says their rosé from Pinot Noir, Zinfandel, or any Italian grape variey is made in a Provencal style, it is the same as if we said our Sangiovese Riserva is made in the style of Barolo. - MU