2016 Zinfandel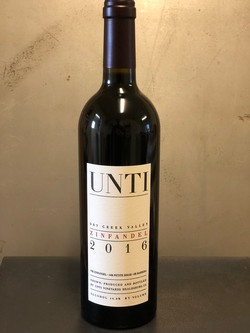 Varietal/Vineyard: This Zinfandel comes from our Primitivo-clone vineyard planted next to the winery in 1998. We favor the Primitivo clone because it tends to produce berries that are smaller and with thicker skins, versus typical Califronia Zinfandel selections. This leads to a richer wine with more tannin, which is characteristic of old -vine Zin. All of our grapes are hand harvested by our full-time vineyard crew.
Vintage/Harvest: 2016 signaled the end of our three year drought by providing a fairly normal growing season. Cooler-than-normal August weather seemed to extend the growing season, which helped provide color, body, and maintian acidity. We harvested our Zin and Petite Sirah the third weeek of September -pretty normal timing-wise for us. Our Petite Sirah was fruity this year, which explains for it being 18% of the finished blend. As always, we crop-thin our vines early in the season to facilitate more complex wines.
Winemaking: The grapes were de-stemmed and gently pumped into stainless steel tanks using a peristalic pump. Fermentation started naturally without inoculation after a five-day cold-soak. We pump the must over twice daily. Upon dryness, the pomace is basket-pressed, blended with free run wine, and transferred to French oak barrels. In 2016 we co-fermented the Zinfandel with Petite Sirah for color stability and tannic structure, which really contributes texture. We then blend Barbera for acidity.
Style: The 2016 is really a throw back to the classic old vine Zins in Dry Creek, where Petite Sirah provides a more structured style. The wine is a dark and full-bodied with flavors of boysenberry and pepper. The Barbera keeps the wine from being too clunky by adding freshness. You know how I feel about agining Zins-I generally don't. But this wine should continue to improve over the next 4 to 6 years. -MU
76% Zinfandel, 18% Petite Sirah, 6% Barbera
1,125 cases produced
92 points Wine Spectator