2015 Cuvee Foudre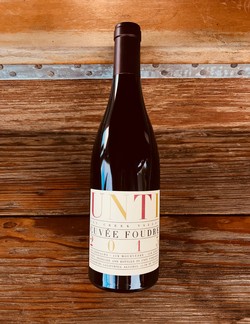 VARIETAL / VINEYARD: Cuvée Foudre represents the best lots of Grenache, Mourvedre, and Syrah from the vintage. The Grenache is from our Alban selection (clone) planted on a low-vigor rootstock called 420-A, the Mourvedre from our creekside block, and the Syrah is from our clone 383 also located on our winery parcel. Over the years, these Southern Rhône clones have consistently out performed other selections on our property. The vineyards are planted to dense spacing (1800 vines per acre).
VINTAGE: 2015 is one of our most successful vintages across the board for Unti. Yields were low thanks to smaller clusters and berries which was probably the result of 2015 being the third consecutive of drought years. The dry winter followed by a warm summer had us harvesting both Grenache and Mourvedre by September 21st, by far the earliest date in our winery's history. Some of the Southern Rhône's best vintages are characterized by warm and dry growing seasons because Grenache and Mourvedre generate more interesting structure and flavors in these conditions. We routinely drop 40 to 50% of fruit for uniform ripening, depth, and complexity.
WINEMAKING: We ferment all of these individual wines in small open top tanks. After a five-day cold soak, the fermentation began spontaneously with indigenous yeast and lasted a little over two weeks. 20% of the grapes were fermented as whole clusters, a traditional method used to provide tannin structure, and more importantly a peppery aroma found in Gigondas or Châteauneuf-du-Pape. We chose not to include stems in the Mourvedre in order to avoid some green tannin—and It worked—as this wine shows a seamless texture. True to the wine's name, it was aged in a 620 gallon foudre, a size commonly used in the Rhône. These large barrels preserve the vineyard character by minimizing both oak extraction and oxidation.
STYLE / DESCRIPTION: Cuvée Foudre is code for us having a kick-ass vintage for Grenache and Mourvedre, having only bottled under this label in 2005 and 2012. The ripe vintage for Mourvedre, combined with a full-bodied vintage of Grenache packs this wine with intense aromas of pepper, raspberry, cherry, blackberry, tar, licorice, and dried herbs (enough with the descriptors!). This is the closest we've come to the "Holy Grail" of making a Châteauneuf-du-Pape style wine. It has the endurance to last at least 5 to 7 years, but should really start showing its stuff in 2 years.
- MJU
Wine Specs
Appellation
Dry Creek Valley