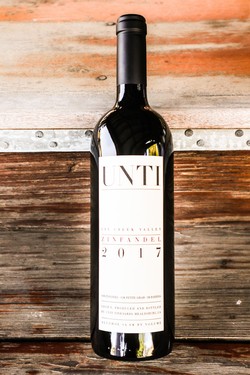 HARVESTED: SEPT. 16, 2017
BRIX AVG: 27.4
BLEND: 80% ZINFANDEL 15% PETITE SIRAH 5% BARBERA
BOTTLED : August 23, 2018
pH: 3.70
ALCOHOL: 14.6%
TA: 5.9 grams per liter
AGING: 13 MONTHS FRENCH OAK 25%NEW
CASES: 1,094
2017 ZINFANDEL
VARIETAL/VINEYARD: This Zinfandel comes from our Primitivo-clone vineyard planted next to the winery in 1998. We favor the Primitivo- clone because it tends to produce berries that are smaller and with thicker skins, versus typical California Zinfandel selections. This leads to a richer wine with more tannin, which is characteristic of old-vine Zin. Our Petite Sirah comes from a 1 acre block of vines located on our Benchland property.
VINTAGE/HARVEST: 2017 was a fairly normal growing season with a few summer heat spells. Cooler-than-normal August weather seemed to extend the growing season, which helped provide color, body, and maintain acidity. We harvested our Zin and and Petite Sirah the third week of September-pretty normal timing-wise for us. Our Petite Sirah was particularly fruity this year, which explains for it being 15% of the finished blend. As always, we crop-thin our vines early in the season to facilitate more complex wines. All of our grapes are hand harvested by our full-time vineyard crew.
WINEMAKING: The grapes were de-stemmed and gently pumped into stainless steel tanks using a peristaltic pump. Fermentation started naturally without inoculation after a five-day cold-soak. We pump the must over twice daily. Upon dryness, the pomace is basket-pressed, blended with free run wine, and transferred to French oak barrels. In 2017 we co-fermented the Zinfandel with Petite Sirah for color stability and tannic structure, which really contributes texture. We then blend Barbera for acidity.
STYLE: The 2017 Zin is really a throw back to the classic old vine Zins in Dry Creek, where Petite Sirah provides a more structured style. The wine is dark and full-bodied with flavors of boysenberry and pepper. The Barbera keeps the wine from being too clunky by adding freshness. You know how I feel about aging Zins—I generally don't. But our 2017 Zin has great tannin structures meaning it will wine continue to improve over the next 4 to 7 years. – MU
Wine Specs
Appellation
Dry Creek Valley