2017 Fiano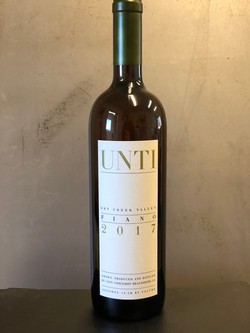 VINEYARD: We have .81 acres of Fiano, grafted over in 2011. The vines were originally planted in 1998, on 420-A low-vigor rootstock. The vineyard is densely planted to 4 X 6-ft spacing. Fiano is perhaps Southern Italy's most noble grape. It comes from the region of Campania, near the city of Naples.
VINTAGE: 2017 was a fairly normal growing season with a few summer heat spells. A cooler-than normal August slowed down ripening and helped grapes retain good acidity. We harvested Fiano on August 31 on the early-side of ripeness because sugars can really accelerate quickly at the end of Fiano's growing season.
WINEMAKING: This is only our sixth vintage making Fiano. The grapes were de-stemmed and sent directly to the press. The fermentation began spontaneously with indigenous yeasts and carried out at low temperatures (under 70 degrees) to preserve fruit aromas for three weeks. We prefer fermenting and aging our whites in concrete because it provides some texture without the oak character derived from barrels. We prevented this wine from going through malo-lactic fermentation to maintain bright acidity.
STYLE / DESCRIPTION: This 2017 shows why we planted Fiano in the first place. Its pale-gold color leads to a dry, crisp wine that has incredible texture. It is quite high in acidity acidity for Fiano...and I love it! We are beginning to think Fiano has found a home here in the Dry Creek Valley. Now if we could only find a home in Campania...
HARVESTED:
AUG 31, 2017
BRIX AVG:
22.4
BLEND:
100% FIANO
ACIDITY:
7.2 g/L
pH: 3.31
ALCOHOL: 13.5%
AGING:
CONCRETE TANKS
BOTTLED:
12/4/18
CASES:
255
Wine Specs
Appellation
Dry Creek Valley