2016 Segromigno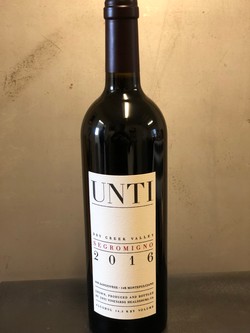 Segromigno is located near Lucca, one of Tuscany's more beautiful Etruscan cities. It is where my dad's father was born, and where our cousins currently live. While Segromigno is in Tuscany, this wine is a blend resembling Rosso Piceno. Rosso Piceno is a wine from Le Marche and is usually a blend of Sangiovese and Montepulciano.
VINEYARD: Our 2016 Segromigno is a blend of 86% Sangiovese and 14% Montepulciano. We use the grapes grown on the east hillside and our recently grafted Sangiovese Grosso vines. Both of these sections in our Sangiovese vineyard give us a fruit-forward wine that is not as structured as our west hillside vines. The Montepulciano was planted in 2005, 2006, and 2007. We now have 2.5 acres of Montepulciano planted—more than anyone in Sonoma County. We aggressively crop-thin all of our Italian varieties to improve quality. All of our grapes are organically farmed and hand-harvested by our full-time vineyard crew.
VINTAGE/HARVEST: 2016 was a great vintage for both Sangiovese and Montepulciano. A normal post-drought season finished with a coold August, which developed nice flavors while maintaining good acidity. We harvested Sangiovese from September 9th through September 14. Our 2016 Sangiovese features more expressive floral and spicy fruit with excellent natural acidity. Montepulciano, is a late ripening grape here in Dry Creek, yet we were able to harvest it in late September. MP adds color, body and an interesting chocolate/earth component.
WINEMAKING: Our Sangiovese and Montepulciano grapes are de- stemmed and pumped into small, open top tanks at cool temperatures. After a 4 or 5 day cold soak, fermentation begins spontaneously with native yeasts on grapes. Fermentation lasts approximately two to three weeks. We rack wine into small French Oak barrels and larger oak (620 gallon) vessels called "foudre." We believe French Oak integrates much better with our wines. The Segromigno is bottled in late August to preserve fruit. We blend Montepulciano to provide a boost in structure and complexity.
STYLE: 2016 is another excellent example of the style we are trying to achieve with Segromigno- making a wine reminiscent of top flight Chianti Classico. It strikes a nice balance of bright floral and fruity aromas with juicy fruit and spice on the palate. Like most great Chiantis, Segromigno is definitely a "go to" wine with a variety of foods. It should age nicely over the next 3-5 years, or tonight. MU
HARVESTED:
SG- SEP. 9,14 MP- SEP. 30
BRIX AVG:
25.1
BLEND:
87% SANGIOVESE 14% MONTEPULCIANO
pH: 3.66
TA: 5.8 grams per liter
ALCOHOL: 14.5 %
AGING:
13 MONTHS FRENCH OAK 30% NEW +
620 GALLON FOUDRE
B0TTLED: 8/28/17
CASES:
725
Wine Specs
Appellation
Dry Creek Valley