2015 Syrah Benchland 1.5L Magnum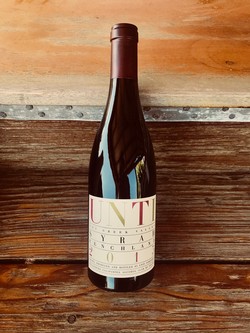 VINEYARD: Our Syrah Benchland was planted in 1991, making it our oldest
vineyard block. The Syrah bud wood came from the Durell vineyard in
Sonoma. The chalky/rocky well-drained soils have always produced small
berries, resulting in dark and intense wine. There is an unmistakable smoked
meat element to wine from this vineyard, making it our most unique Syrah.

VINTAGE / HARVEST: 2015, the third consecutive drought vintage, really
allowed this vineyard to shine. A dry winter and spring created a light crop,
which almost always results in a more concentrated and complex wine, or
classic vintage. The light yield, coupled with a warm and dry summer led to
an early harvest date of September 10th at a sugar of 24.8 brix, which is
about ideal for this vineyard.

VINIFICATION: Our winemaking for this Syrah is pretty straightforward. It was
fermented in a small stainless steel tank, which provides excellent extraction.
We de-stemmed all of the fruit, as we have not had great success using
whole cluster fermentation with this vineyard. After a 5-day cold soak,
fermentation began with indigenous yeast. We punched down the cap
once a day and pressed at dryness. Since this is one of our more full-bodied
wines, we age it in 40% new French Oak barrels for 15 months. It is 100%
Syrah.

STYLE / DESCRIPTION: This 2015 Syrah Benchland is another classic vintage in
the mold of our 2007 or 2012, meaning it has an extra dimension of fruit to
go along with the savory elements and tannin structure we are accustom
to seeing from this vineyard. It should age nicely for many years (6 to 8) to
come. I love it when the vineyard and the vintage make us look so good.
—MJU
H A R V E S T E D :
SEPTEMBER 10

BRIX AVG:
24.8

B L E N D :
100% SYRAH

ACIDITY: 6.3g/L
p H : 3 . 8 7

ALCOHOL: 1 4 . 6 %

A G I N G :
15 MONTHS FRENCH OAK
BARRELS 40% NEW

B O T T L E D :
4 / 2 6 / 1 7

CASES PRODUCED:
150
Wine Specs
Appellation
Dry Creek Valley