2015 Sangiovese Riserva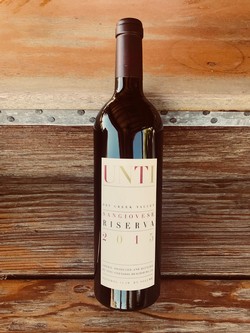 VARIETAL/VINEYARD: We now have 7 acres of organically farmed Sangiovese Grosso planted. Sangiovese Grosso is the clone used for making Brunello di Montalcino—the noble full-bodied wine from Southern Tuscany. This wine comes exclusively from the west hillside of our terraced Sangiovese vineyard planted in 1992. This section is east-facing, meaning it receives primarily morning sunlight. It is consistently our best lot of Sangiovese. All of our Sangiovese is thinned to only one cluster per shoot or less, which is vital to making full-bodied Sangiovese wine.
VINTAGE/HARVEST: 2015 was the third consecutive drought year resulting in an outstanding vintage for our Sangiovese. We harvested these vineyard blocks on August 31st and September 3rd, which is early for this wine. A dry and warm growing season provided fully ripe Sangiovese fruit, void of any vegetal flavors, yet with solid acidity. 2015 will go down as one of the best red wine vintages for Unti across multiple grapes varieties.
VINIFICATION: Our Sangiovese is de-stemmed, with most of the berries intact in tank and kept below 60 degrees, for several days prior to spontaneous fermentation by indigenous yeast. We punch down or pump over the must daily, during fermentation. To preserve Sangiovese's delicate fruity quality, we try to handle it as little as possible during the aging process. We feel this Sangiovese has the depth and concentration to be aged in 35% new French oak barrels for 13 months. It is 100% Sangiovese.
STYLE: If you have ever tasted Brunello di Montalcino wine, you intrinsically know what this wine is all about. Our 2015 Sangiovese is dark and fruity with that classic mix of earth, chocolate and dried herbs we love about our favorite modern-style Brunellos. It has consistently impressed when we've tasted with top-flight Brunello wines. While intensely fruity, this wine has solid tannin structure allowing it to age well over 6 to 10 years past the vintage. -MU
HARVESTED: SEPTEMBER 8, 2015
BRIX AVG: 24.5
BLEND:100% SANGIOVESE
ACIDITY: 6.7 g/L
pH: 3.61
ALCOHOL: 14.5 %
AGING: 13 MONTHS FRENCH OAK 35% NEW
BOTTLED: 12/15/16
CASES: 138